April / May 2016
Yet again, it has been time for doing some tv-shooting at "Guld i Købstæderne", where treasures are found at different locations in Denmark. Also this time I managed to buy a few interesting objects. It will be shown in june 2016 on DR1.
'Seagul chairs' by Arne Jacobsen. February 18th, 2016.
In order to find some matching modern- as well as stylish and iconic surroundings for the Seagul chairs by Arne Jacobsen, they were brought to the coast of Dragør where the Öresund bridge and the windmill farms form a lovely scenery for this photoshoot out in the nature.
Back to Nature 10/09-2015
Today, I walked some chairs and let them sniff the nature they once came from 🙂
Mandag d. 07/09-2015
Now we are back at the DR1 tv program, "Antikduellen", where we compete to make the best findings. Below, please find an invitation to participate at the auction.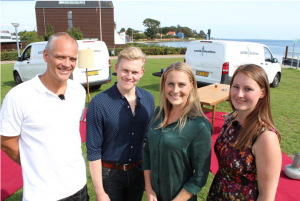 Join the DR 'Antique duel'

DR is currently shooting a new round of 'Antique duel', and you can be in the final auction, 
which takes place at Svendborg auctions Sunday. Sept. 13.

Kay Bojesen, Kähler and Wegner, But also an old French wine rack, an ancient stringed 
instrument and a few oriental opium containers. That and more coming under the hammer when DR invite to the final recordings of Antique duel on Sunday. Sept. 13. at 11.00 in Svendborg 
auctions.

Here, six of the country's best antique dealers dueling pairs to get the best auction result 
of their bought items. You can bid and help to determine who retires victoriously.

The host of the program is Mette Bluhme Rieck, who is looking forward to filming:

- Whether one is for Danish design, fine antiques or rare retro findings, we can guarantee 
something for everyone. And if you haven't got the nerve to bid, you are still very welcome to show up for the fun of it.

Prior to the three final antique duels, the six participants each bought antiques and retro 
findings for 30,000 kr. Around the country. Catalog with over 100 items can already be seen at the Svendborg Auctions website, where you can pick out some favorites. The proceeds from the 
auctions go to charity.

DR recordings being used in the new edition of the Antique duel, sent from 16 of November at. 18.00 on DR1 and the coming five weeks. The three teams that duel on September 13 are:

Lis Messmann, owner of antikvitetsbutikken Staarup Manor, and Kristian Ry from Used goods 
terminal in Aarhus.

Margit Damgaard, who runs the shop Damgaard-Lauritsen Antik in Odense, and Lasse Franck, owner of the store Refurniture in Randers.

Ulrik Kemnitz, who has the online store kemnitz.dk and Sofie Frøkjær which operates 
Refurniture in Randers.

 For further information please contact editor Anne Mette Lorentzen 28 54 72 90th